Link Between Sleep Apnea And Oral Health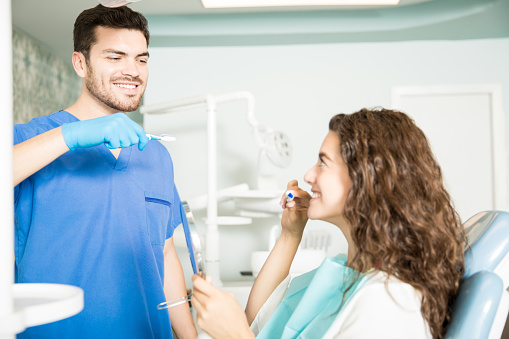 Stops in breathing or shallow breathing during sleep define sleep apnea a widespread and possibly life-threatening sleep disease. It may have severe consequences for your dental health and general well-being. This blog will discuss the relationship between sleep apnea and oral health, including the effects of the disorder on the mouth and teeth and the positive impact of proper dental hygiene and treatment on overall wellness.


Sleep Apnea Affects Your Oral Health

Repeated pauses in breathing during sleep characterize the sleep disorder known as sleep apnea. Sleep apnea affects your entire body but also negatively impacts your mouth. Sleep apnea may be to blame if you have any of the following problems. When your airway is blocked because your tongue is relaxed, you may find yourself grinding your teeth subconsciously. This may improve your breathing but also wear down your teeth. Worn teeth are more susceptible to decay and cavities.

Another symptom of sleep apnea is sleeping with your mouth open. Dry mouth is caused by mouth breathing. Plaque, cavities, tooth decay, gum disease, infections, and mouth sores are all symptoms of a dry mouth. Your dentist may be able to fix the problem temporarily, but it will reoccur unless the underlying cause is addressed.

The TMJ is the connection between the jaw and the skull on either side of your face. TMJ dysfunction can occur in people with sleep apnea because of the repetitive opening and closing of the mouth and jaw. Due to this, you may experience additional pain in your jaw and have trouble eating, clicking, or locking your jaw.


Get In Touch With Us

Please book an appointment as soon as possible with one of our skilled dentists so that we can provide you with the highest quality dental care that is currently available.