All on 4 Naperville IL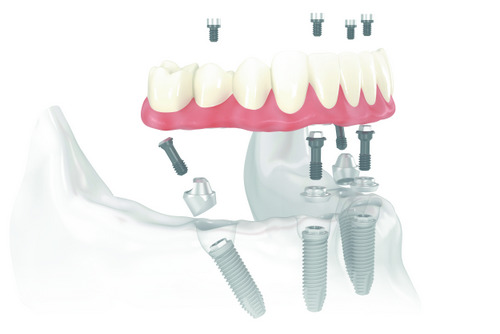 The All on 4 treatment concept is a patented, modern, and innovative dental implant procedure.

As its name indicates, this concept makes it possible to create a permanent prosthetic with only four implants in each jaw. This approach restores proper chewing function and a natural appearance to your mouth, while also saving you money and time.

Wheaton Oral Surgery is proud to offer this revolutionary method to our patients, which we can complete in a single day.


What Is All on 4?

Developed by Nobel Biocare™, the All-on-4® concept in dental treatment involves a special technique in which dental implants are angled, rather than vertical.

Due to this essential difference from a standard implant procedure, it is possible to secure a full set of replacement teeth using four implants per jaw.

This requires less jawbone material, which greatly reduces the need for bone grafting prior to the procedure.


What Are the Benefits of All on 4?

There are many advantages of the All-on-4® concept.

Compared to standard dentures, implant procedures based on this method provide more stability since the overdenture, or replacement arch, is secured into your jawbone. Not only does this offer more security, it's more convenient because the protheses don't need to be removed and cleaned.

Here are some more valuable benefits of this unique concept.


Reduced Need for Bone Grafting

The All-on-4® concept also reduces the need for bone grafting, which is often a part of a standard dental implant procedure.

When installing more than four implants, a sufficient amount of jawbone is required to stabilize them.

This means that bone grafting is often necessary to prepare a patient for the implant process. In addition, the angled placement of the implants further increases their stability.


Cost-Effectiveness

Simply put, needing only four dental implants in each jaw means fewer implants to pay for. This benefit is as simple as that.


Shorter Treatment and Recovery Time

With just four implants to install, we can complete a virtually pain-free implant process within a few hours.

This includes tooth extraction, placement of implants, and attachment of the secured prosthetic to the implants.

In addition, recovery time is greatly reduced because there are fewer surgical sites to heal.


Improved Speech and Chewing Function

With removable dentures, slippage is common, which can make chewing difficult. Unfortunately, this leaves many patients who have dentures unable to enjoy certain foods.

With implants permanently stabilized in your jawbone, you don't have to limit the foods you eat.

Slipping dentures can also affect your speech, resulting in slurring and mumbling. Once again, the permanence offered by the All-on-4® concept pays off.


Restores a Natural Appearance

Missing teeth don't just affect the look of your smile, they also change the appearance of your face.

They can cause a sunken and aged look that makes you look older than you really are. With a dental implant procedure based on the All-on-4® concept, we can restore support for your cheeks and lips, giving your face a more attractive and natural appearance.


Your Oral Surgeon in Naperville Offers All on 4!

Wheaton Oral Surgery is a leader in dental implant procedures based on the All-on-4® Treatment Concept. If you have significant tooth loss or severely decayed teeth, please call our office at (331) 204-0314. We would love to help restore your smile and chewing function.