Platelet Rich Plasma Naperville IL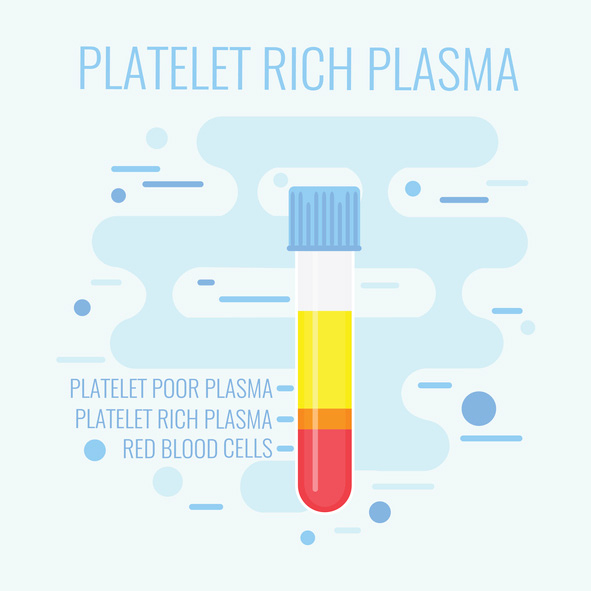 There are multiple benefits to using platelet-rich plasma (PRP). Its tissue regenerating abilities make it an attractive choice for wound healing post-surgery, especially in older individuals that may have poor regeneration.

Wondering how PRP works? Your blood sample is centrifuged to separate it into different components, and we extract the platelet-rich part of it.

The use of platelet-rich plasma was previously confined inside hospital walls due to the cost that went behind centrifuging. However, it has now become more widely used in dental settings due to advances in technology.

Wheaton Oral Surgery has been using platelet-rich plasma for our patients' benefit as it has proven to improve the prognosis of healing after any dental procedure.


What Is Platelet Rich Plasma?

The blood has four main components: the red blood cells, the white blood cells, the platelets, and the plasma. Platelet-rich plasma is a blood-derived component made of platelets and plasma.

The plasma in the blood is a clear yellowish colored liquid part of your blood and accounts for 55% of it. Its function is to act as a carrier medium that is rich in nutrients. The platelet accounts for only 20% of your blood and is the smallest of the three cells suspended in the plasma. The function of the platelets is to cause wound healing by forming clots.


How Platelet Rich Plasma is Used in Oral Surgery

During the process of getting dental implants, PRP reduces the recovery time between the placement of the posts and the crown.

Moreover, by helping the surgery site heal faster, it prevents post-surgery complications related to bacterial infection.

There are no risks involved in using platelet-rich plasma (it is immunologically neutral). The use of your blood sample eliminates the chances of any complications like rejection, allergy, or hypersensitivity.


What Are the Benefits of Platelet Rich Plasma in Oral Surgery?

Platelet-rich plasma not only helps with wound healing, but also aids in the regeneration of both hard and soft tissues. This makes it an excellent choice for decreasing the time of procedures like a bone graft, sinus lift, or ridge augmentation that are sometime required before dental implants can be placed.

Faster wound healing simply means less pain, less irritation and fewer restrictions with regards to what you can and cannot do. This is just one small tiny step that needs to be taken by professionals like us prior to a major dental procedure and it can help cut your pain and healing time in half.

One of the best things about getting platelet-rich plasma therapy is that you don't have to worry about waiting for a long time before you can opt for your dental implants, which means you can smile confidently in public again.


PRP Procedure and Process

Platelet rich plasma (autologous platelet gel) extraction is a simple procedure that can be performed on the same day as any oral surgery. An adequate amount of your blood sample will be collected. It will then be spun in a centrifuge machine to separate the components and use only the platelet-plasma part. After extraction, the PRP is applied to your wound's site as a thick gel-layer or injected after the surgery is completed.


Recovery and Aftercare

Next, we inject the plasma directly to the surgical site to promote rapid healing. The process takes about an hour so our patients can get in and out with just one visit. It is simple to complete and many of our patients report positive results. These will often take a few days to appear, but many patients report noticing a difference almost immediately.


FAQs
How Does Platelet Rich Plasma Promote Healing in Oral Surgery?

As its name suggests, platelet rich plasma is a platelet-rich extract of blood. It's usually sourced from the patient's body, making it a compatible source of extra platelets needed to stimulate quicker stem cell growth and blood clotting. As such, it is one of the most effective post-surgery treatments to help manage pain, bleeding, and swelling.


Is Platelet Rich Plasma Safe for Everyone?

PRP can be highly beneficial to anyone recovering from tooth extraction or implant surgeries, especially those grappling with poor healing. The therapy can serve up a simpler, cheaper and efficient alternative to reconstructive surgery to people suffering from excessive bone loss and poor healing.

Certain medical conditions and medications will prevent the chances of getting treatment. These conditions include thrombocytopenia (low platelet count) which causes poor clot formation, and those patients taking anticoagulants, which will again stop clot formation.


Can Platelet Rich Plasma Be Used in Dental Implant Surgery?

There are several ways in which platelet rich plasma therapy can be used for dental implant surgery.
| | |
| --- | --- |
| • | After bone grafting procedures. Bone grafting procedures are necessary for patients who do not have sufficient or healthy bone structure to support dental implants. However, these procedures usually delay the implant placement for several months. Using platelet rich plasma therapy can help to significantly shorten this waiting period. |
| • | After a gum grafting procedure. Gum tissue regeneration is another dental procedure that can be carried out before dental implants. However, just like with bone grafting, the healing and recovery period can delay the placement of the implants. Platelet rich plasma therapy can, however, help to remedy the situation. |
| • | After tooth extraction. Although rare, complications can arise following tooth extraction, which can make it impossible to get immediate implants. Damage to the gums or infection around the extraction site can occur. Using platelet rich plasma therapy can help to quickly remedy these complications, thus allowing for faster implant placement. |
| • | After the actual dental implant procedure. Since a dental implant placement is an oral surgical procedure, platelet rich plasma treatment is also used help to accelerate the healing process following the surgery. |
Are There Any Side Effects or Risks Associated with Platelet Rich Plasma?

Although PRP provides many benefits, there are specific contraindications that will prevent you from using PRP. Platelet-rich plasma may be injected (deep) or applied as a thick gel on the wound site (superficially). If injected improperly, it can cause damage to underlying nerves.


How Long Does it Take to See Results From Platelet Rich Plasma Treatment?

The results of studies showing PRP's capacity to accelerate healing are quite telling. By producing a combination of various effects that contribute to healing, PRP has been shown in some studies to accelerate healing by six times as much compared to the natural healing process.


Platelet Rich Plasma is Available at Your Naperville Oral Surgery Office!

To take better advantage of platelet-rich plasma treatment and its benefits, visit us at Wheaton Oral Surgery or contact us at (331) 204-0314. We can guide you through the procedure and how it is done.