Implant Supported Denture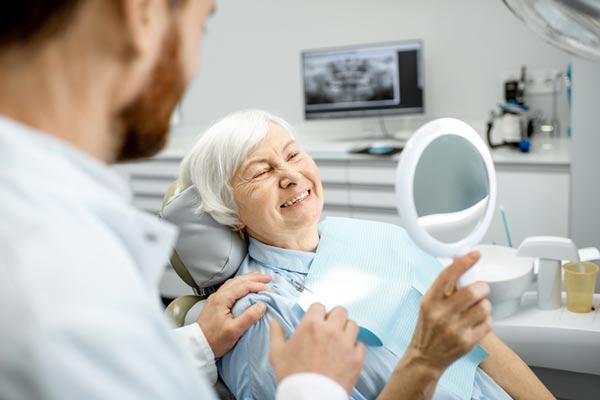 It's not that uncommon for adults to lose their teeth as they age. When this occurs, implant-supported dentures are one restorative treatment option. Implant-supported dentures are designed to look, feel, and function like your natural teeth. Not only can Wheaton Oral Surgery improve the aesthetics of your smile with dental implants, we can also restore the overall structure of your mouth. We do this by preventing your teeth from moving out of their original positions in painful and unnatural ways.


What Are Implant Supported Dentures?

Implant-supported dentures are attached to your jawbone using titanium implants that serve as tooth roots for the replacement teeth. This serves as a type of overdenture, which is a term describing a partial or complete denture that sits on or is attached to either underlying tooth structure or implants.

Similar to other dentures, implant supported overdentures are removable, but they provide better retention and function compared to traditional dentures. Conventional dentures are much more likely to become unstable and require refitting over time.


Two Types of Implants for Overdentures

While partial or complete conventional dentures rest on your gums and can be attached to your natural teeth, implant supported dentures are stabilized by implants connected to the jawbone. Once we've determined that you are a good candidate for implants, which includes having enough of your jawbone, we will determine which of two types of implant supported overdentures we will use for your procedure. These include bar-retained and ball-retained dentures.


Bar-Retained

With this type of overdenture, a thin, metal bar is affixed to at least two, but no more than five implants in your jawbone. Clips or similar connectors secure the overdenture to the bar.


Ball-Retained

Also called stud-attachment dentures, these implant supported overdentures typically contain sockets that are placed onto round connectors on the implants.


What Is the Implant Supported Denture Process?

The nature of your implant supported denture procedure will depend on the type of implant used and the existing condition of your jawbone. Although the procedure can be viewed as intensive, the primary advantage of implant supported dentures is stable and reliable support. This is a clear benefit of this type of overdenture over the slippage of conventional dentures or the potential tooth and bone damage associated with bridgework.

We typically first place implants in your jawbone in the front of the mouth, with the time frame for the entire procedure lasting anywhere from five months to more than a year. The duration of the process will depend on whether or not we need to perform bone grafting prior to the procedure. Usually, the process involves two surgeries. The first involves placing the implants into the jawbone, while the second involves partially exposing the implants. However, there is a one-phase procedure now available in which we place implants and supporting devices in one step.

Implant supported dentures have revolutionized the concept of dentures, which have traditionally been known for their instability in the mouth. This can cause slipping that can negatively impact your ability to chew properly and speak clearly. Wheaton Oral Surgery would be happy to answer any questions you have about implant supported dentures. Feel free to give us a call today at (331) 204-0314.